Our Quality Policy Statement
Security Services is a preferred security contractor specializing in physical guarding, Alarms technology, Cash in Transit, CCTV installation and Patrol dogs within the security industry. We are committed to applying the principals of sustainable development in our business activities. Security Services undertakes to provide a safe working environment in all operations associated with its business. The company has a further obligation to protect the clients physical assets against damage, wastage or loss.
Our aim is:
To identify our customers needs and strive for a defect-free service that conforms to requirements.
To establish management systems for the protection of assets, information and personnel, which are consistent with internationally recognized standards.
Comply as a minimum with all applicable legal requirements.
To adopt a comprehensive security structure throughout the various operating branches with a view to continuously improve in the way we conduct our business.
To encourage similar principals in our clients and suppliers so as to enhance our partnership.
To enhance career path development of employees through active training and participation in quality improvement processes.
In accordance with this policy, Management:
Will continuously upgrade the security safety standards in accordance to the risk of the given post/premises and ensure that all security officers/guards receive the necessary training and understand the set standards and follow them.
Will hold managers and supervisors responsible for matters relating to safety and quality patrols within each clients premises.
Will do everything in their power to create a climate in which positive attitudes towards a quality security program can be established and advanced.
The Organisation
The Strength of Security Services is in our personnel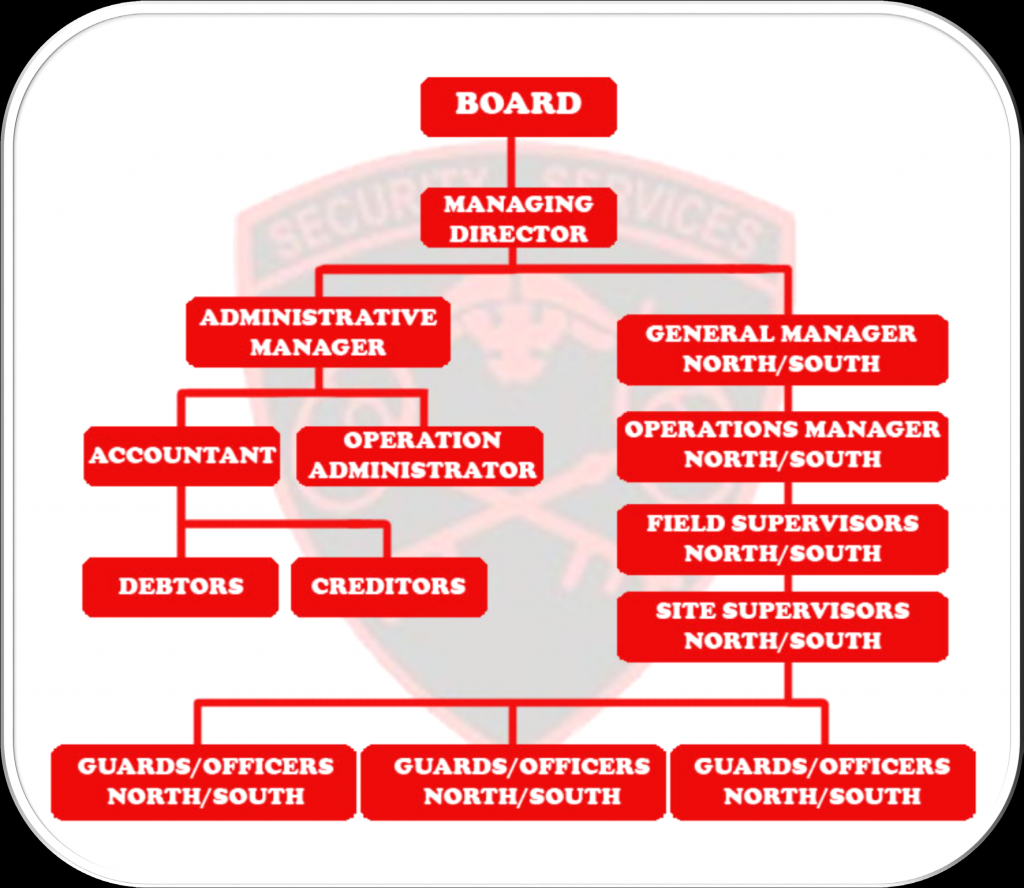 Community Involvement
Engagement with local communities is essential to ensure that extractives operations are planned and implemented in a way that supports the social and economic development of local communities.
Furthermore, our good community relations are key to our prevention-based approach to security management. We engage with many organizations providing support in cash, kind or operational security support.
Some of the organizations include;
Botswana Police Services
Lady Khama Trust
Anti Narcotic Sniffer Dog for Schools
Maikanyo Youth Organization
(Anti Baby Dumping Campaign)
CAAB
Francistown Club
Muddy Events (Tousrim Based)
The Security Expo