Security Services Dog Unit
Unlimited Security Dogs (100% citizen owned), is a dog training centre with a difference. The Company provides services in fields of expertise in conjunction with international standards. Through its management and instructors, the Company draws on a wealth of experience in the military and security fields. This experience was gained in various countries e.g. Mozambique (Mine Detection), Uganda (Mine detection, Narcotic Detection and Presidential Protection) and Tanzania (Training of Security Patrol Dogs and Guards, Geita Gold Project). The newly registered sister company that will be trading in Botswana is called Unlimited Security Dogs.
Currently, the Company provides Security Patrol Dogs to selected Security Companies in Botswana. Security Services Dog Unit have dogs working over the country e.g. Gaborone and neighbouring cities, Mahalapye, Serowe, Maun, Francistown, SelebiPhikwe, Palapye, Kasane, Orapa and Palapye with great success. We are also deploying Sniffer Dogs and Handlers to Air Botswana. Hence we wish to further our role to the sniffer market in Botswana.
The Company can also provide services abroad.
Unlimited Security Dogs Specializes in:
Patrol Dogs (Guard dogs)
Narcotic Detection Dogs (Scent Dogs)
Explosive Detection Dogs (Scent Dogs)
Tracker Dogs (Scent Dogs)
Copper Detection (Scent Dogs)
Ivory and Rhino horn Dogs (Scent Dogs)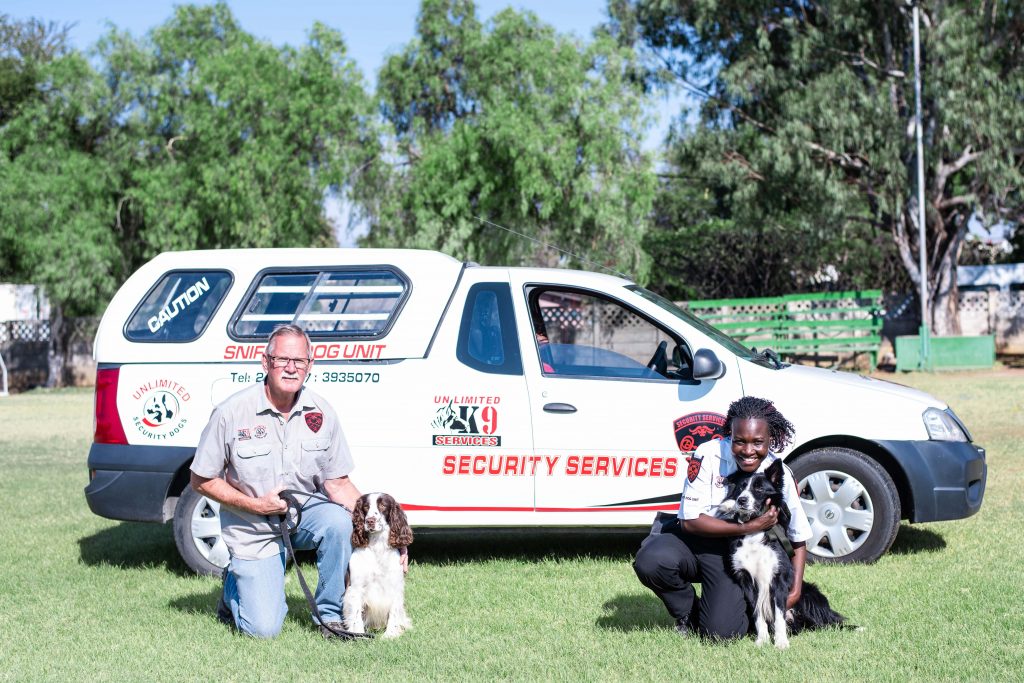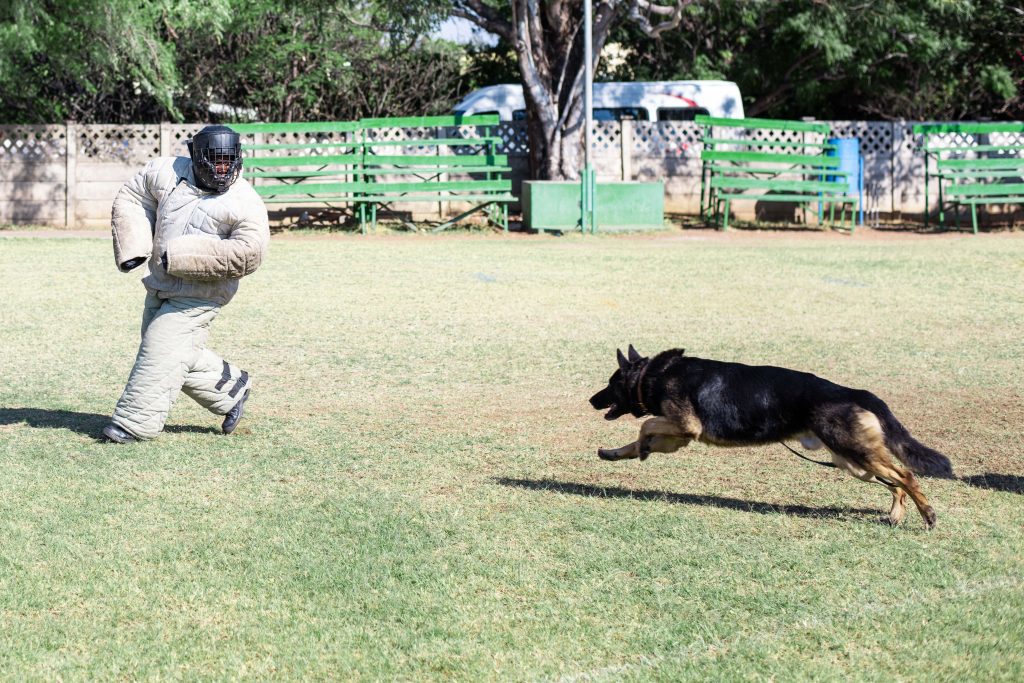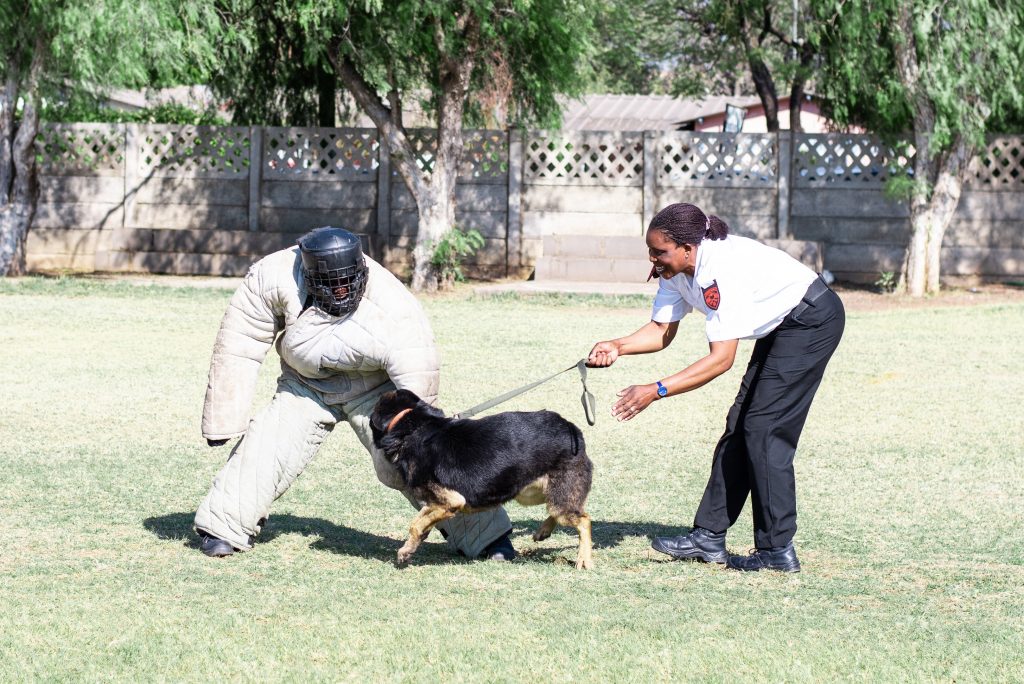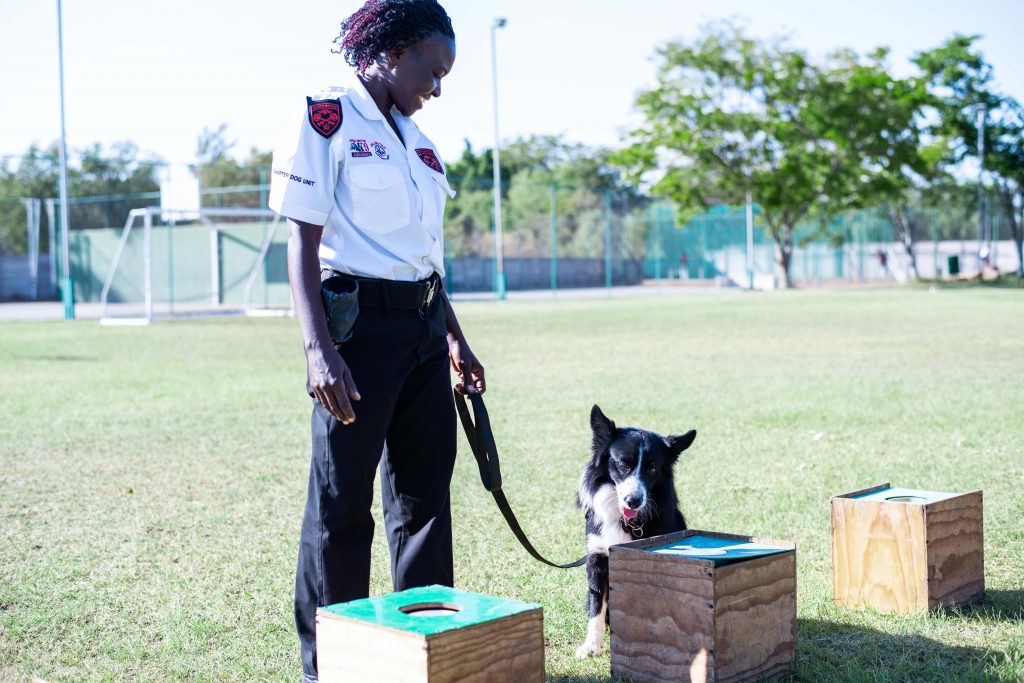 Introduction to Instructors
For the past 40 years (18 years in Botswana) our Instructors have been involved in the Instruction of dog handlers and the training of dogs.
Our Instructors received their training in South Africa, South African Police Dog School, Private Training Classes and competitions, Escom Security Dog School, BRZ International and the U.S. Embassy State Department in Iraq (Ronco and Triple Canopy).
They have trained handlers and dogs in South Africa, Malawi, Uganda, Indonesia, Iraq, Mozambique, Switzerland, and now in Botswana.
Handlers and dogs have been trained by them in Tracking, Patrol Dogs, Explosive & Arms & Ammunition Detection, Schutzhund competitions, Narcotics Detection, Copper Detection, Landmine Detection, Truffle Detection, etc.
Aims
Selection of proper suitable working dogs
The only way to proceed is to start with right quality dogs. The plan is that these animals will be purchased only from well-known breeders from all over the world. Also from our own breeding programme. Only dogs that show interest and good prey drive will be purchased. Dogs that show these qualities are much more reliable and can work relatively long periods of time.
In this way the customer will be assured that only the best animals will be available to work for them in the field that they are trained for.
Kennels and training facilities
Permanent kennels have been erected in Francistown with 100 kennels, and in Gaborone 45 kennels. These kennels are of world standards and specifications (permanent). The training facilities are of the same high standards. As currently we have over 150 patrol dogs in the market of Botswana serving all facets of the economy, doing patrol work.
The objective is that these dogs will be looked after and trained in a professional manner in order that the customers will receive quality working dogs. These facilities are also incorporated for the breeding of quality dogs.